We're off to a great start! Congratulations to our new and returning players – It's amazing to see how much progress you've made in just one week.
Players in each age groups and recruitment:
Player recruitment is progressing very well despite the challenging COVID19 situation. We know many families with high-risk situations were not able to join yet, and we hope to have them back with the Panthers later this year. Meanwhile, we are looking strong across all age groups and all players will therefore be part of a large enough group to progress and have fun. We are still looking for more players in our U10, U14 and High-School groups in particular, so please bring friends and spread the word using this Redmond Reporter article (thank you Sophie!):
https://www.redmond-reporter.com/news/registration-open-for-panthers-youth-rugby/
Coaches – Volunteers needed:
We are currently working on recruiting more coaches to backfill some of the coaches who cannot return because of COVID19. We're happy to announce that Chris Palmer will be our lead coach for U10s this year, and we're looking for U10 parents with (or without!) rugby experience to assist him (our younger ones need more supervision). All parents are welcome to volunteer, even for just one day per week. Please send me us email if you can help.
High-performance Rugby Clinics:
For our returning players born from 2002 to 2009, please be aware of upcoming dates for EIRA 'Clinics'. EIRA stands for Eagle Impact Rugby Accademy and is a pathway for players aspiring to play at national level, or who simply want to be challenged. The clinics are an opportunity to take your rugby skills to the next level with experienced coaches, and also a chance to get noticed and potentially invited to national ID camps. See 2021 EIRA Northwest Clinics.
Several of our high-schoolers who attended these clinics in the past have then gone to national camps and some were selected in US rep-sides touring in Canada in past years.
Don't miss out on this unique opportunity to improve your game and practice with the best players of the state!
Shout-out for the Scharffenorths!
Speasking of high-performance Rugby, I wanted to give a special shout-out to Cole Scharffenorth, one of our most talented high-schoolers who moved to Texas this season and is committed to playing Rugby professionally.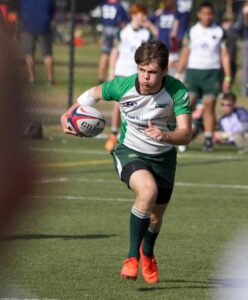 Cole and his younger brother Reid have been incredible team mates and exemplify Rugby values. Their father Darrin (head coach and boardmember) and their mother Mandy (lead volunteer) have been pillars of the club over the past years. While we are sad to see them leave, we are incredibly grateful to them for having supported so actively the Panthers and helped the club grow and mature. We wish the whole family the best in Texas, and we wish Cole in particular a successful 2021 season with his new team!